In Season 6 of The Real Housewives of Orange County, blonde beauty Peggy Tanous the cast, and things have gotten tense between the ladies ever since she jumped into the middle of Vicki and Tamra's friendship. The new housewife replaces Lynn Curtin after she left in Season 5.
Cast of The Real Housewives of Orange County Season 6
Vicki Gunvalson – a successful businesswoman and reality TV celebrity living in Coto de Caza, California, USA
Tamra Barney Judge – a famous American entrepreneur, TV host, and real estate agent 
Gretchen Rossi – an American radio and TV host and businessman
Alexis Bellino – an American TV host and businessman from Newport Beach who made it on his own
Peggy Tanous – an American TV personality and model and TV host
Episode 1 - Amped Blondes and Evil Eyes
Tamra Barney wants to start over and make friends, so she throws a shopping party and invites all the ladies in her life, including RHOC Gretchen Rossi. However, everything goes downhill after Gretchen has a few drinks and begins misbehaving.
Episode 2 - Shameless in Seattle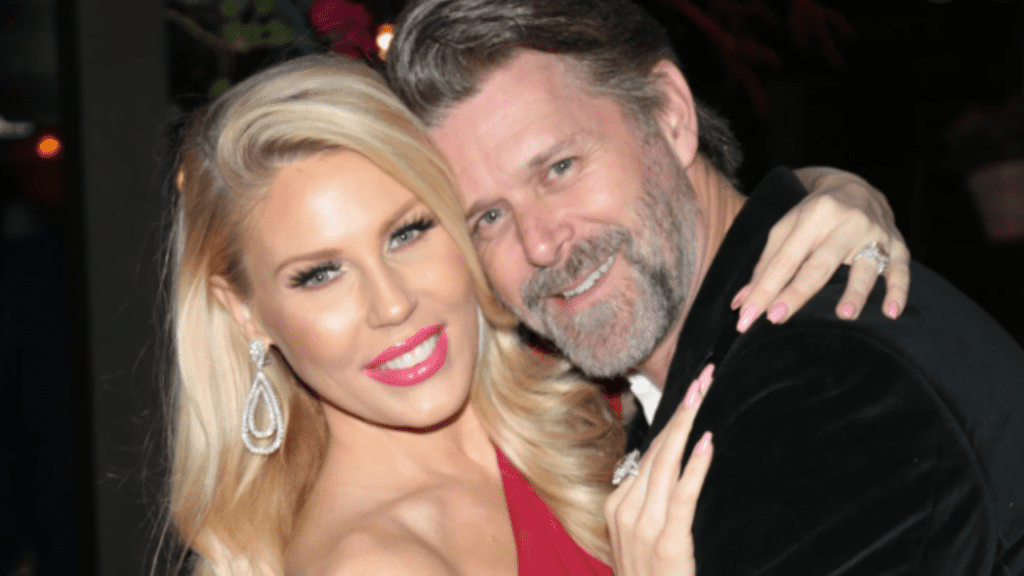 Gretchen has been with Slade for almost a year and a half, but she is still unsure of whether or not she is prepared to get married again. Once again, housewife Vicki Gunvalson leaves Donn in the lurch by attending an insurance conference in Seattle. Briana, Vicki's daughter, comes in for a night of bowling and cocktails. Still, as the day winds down, she becomes uncomfortable with her mother's fun banter with one of the staff members.
Episode 3 - A New Lease on Life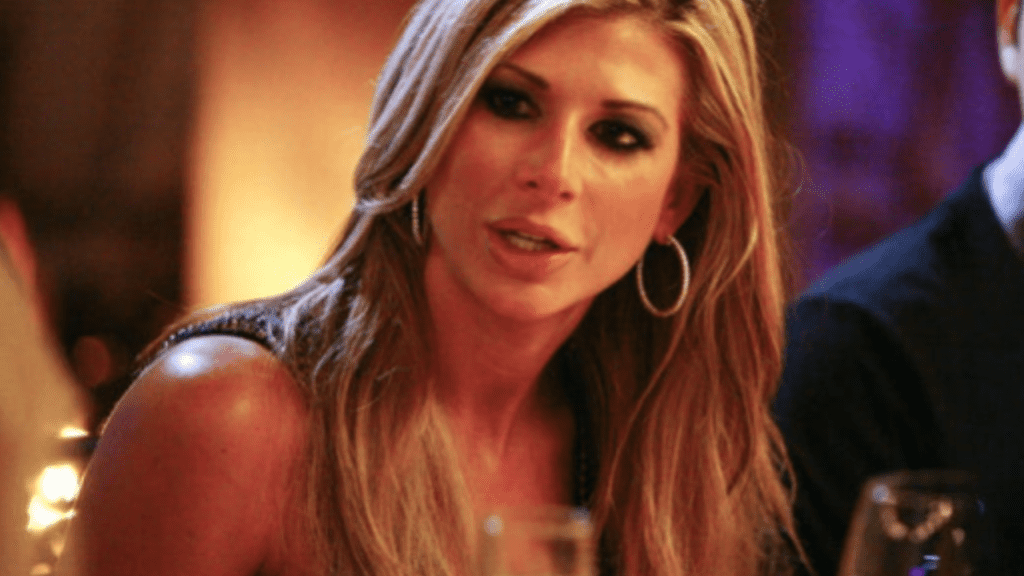 Alexis Bellino, Gretchen, and Peggy Tanous spend the day shopping and catching up. At dinner, the ladies reveal some shocking sexual indiscretions. Alexis and her family take a trip to San Diego. Still, Alexis finds that her vacation there is anything but restful. Tamra wants to make amends with Vicki, so she organizes a girls' trip to Cabo San Lucas.
Tamra and Vicki jet to Cabo San Lucas, Mexico, for a weekend of sunbathing, girl conversation, and tequila shots. Gretchen and Alexis get together so that Alexis can guide Gretchen on moving on from her divorce and finding love again. In a documentary interview, Peggy admits that she has been dealing with a severe health issue for the past three years.
Peggy Tanous goes to see a plastic surgeon to talk about getting new implants. Donn makes Vicki feel bad about putting her career above her family. To mark her new status as a citizen, Fernanda throws a party, but her mood is dampened when she learns that her friend Tamra won't be able to attend.
Episode 6 - What a Difference a Year Makes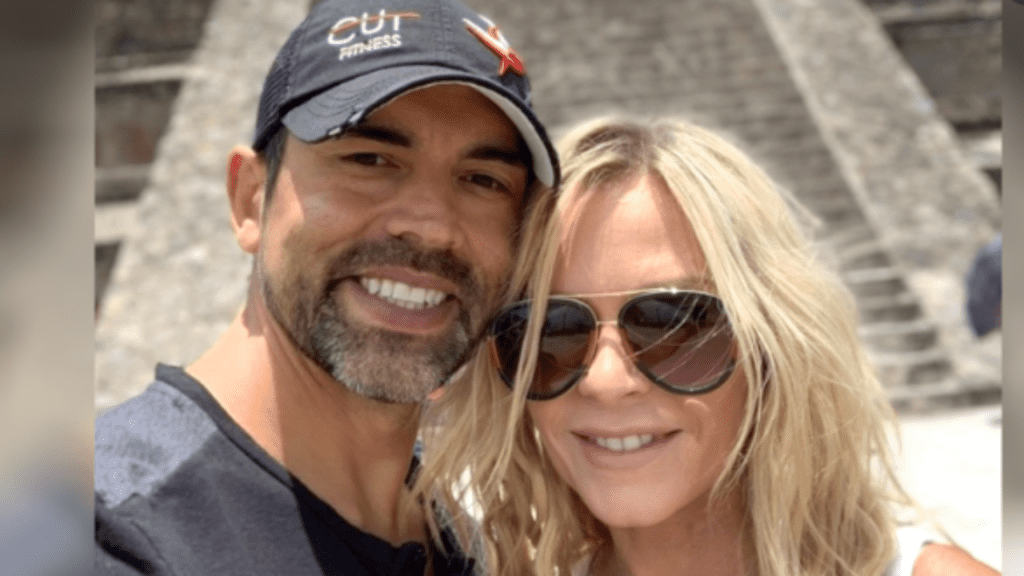 Tamra and Eddie take a trip together to Spain. Additionally, Gretchen plans a vow renewal ceremony for her parents on their 40th wedding anniversary. Peggy is scheduled to have surgery to get her breast implants replaced.
Episode 7 - Riches to Rags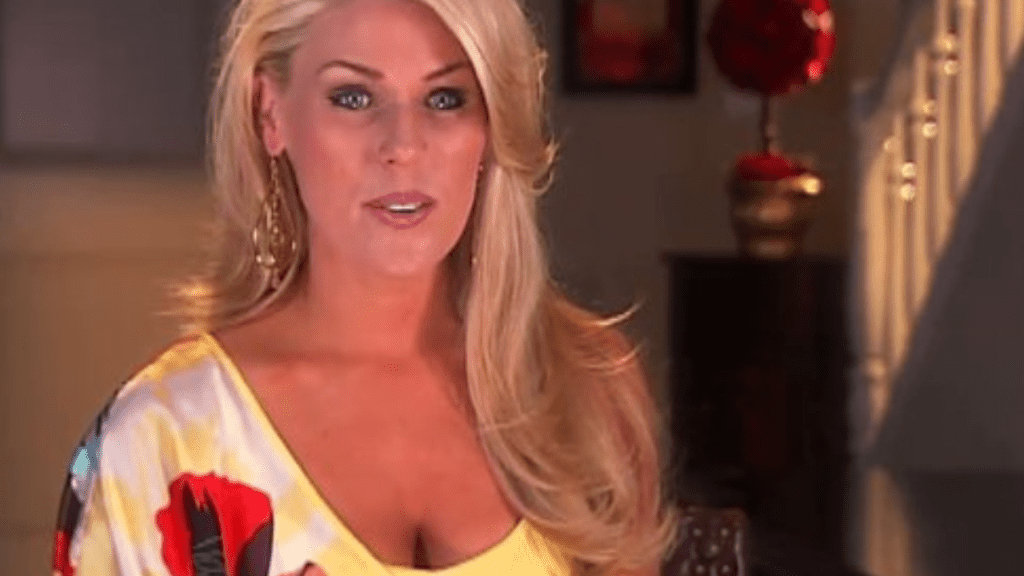 As reports of a possible foreclosure on the Bellino property spread, Vicki paid a visit to Tamra at her new home. Gretchen is depressed since the guys in her life, including the dogs and Slade, are all overweight. Although Vicki and Donn try to spend quality time together by visiting a spa, their dinner discussion quickly becomes unpleasant.
Episode 8 - Kiss and Tell
Slade throws Gretchen a surprise birthday party complete with takeout and a one-of-a-kind present that leaves her dumbfounded. Peggy and Tamra are thrilled to be participating in a fashion presentation by an OC designer. Still, Tamra is taken aback by an unexpected guest. Lynne Curtin, a former housewife, visits Fernanda at her gym. After Tamra doesn't show up for their session, she finds herself on the receiving end of a shocking announcement from Fernanda.
Episode 9 - Whine Pairings
Peggy and Micah have hired Border Grill's Susan Feniger and Mary Sue Miliken to prepare the food for their annual dinner celebration. Eddie, Tamra's new lover, finally gets to meet the gals. A fight breaks out at the festival. Alexis runs away, leaving Peggy and Donn fuming and Vicki's remark that they should have started a family together is a shock to everyone.
Episode 10 - It's Not a Competition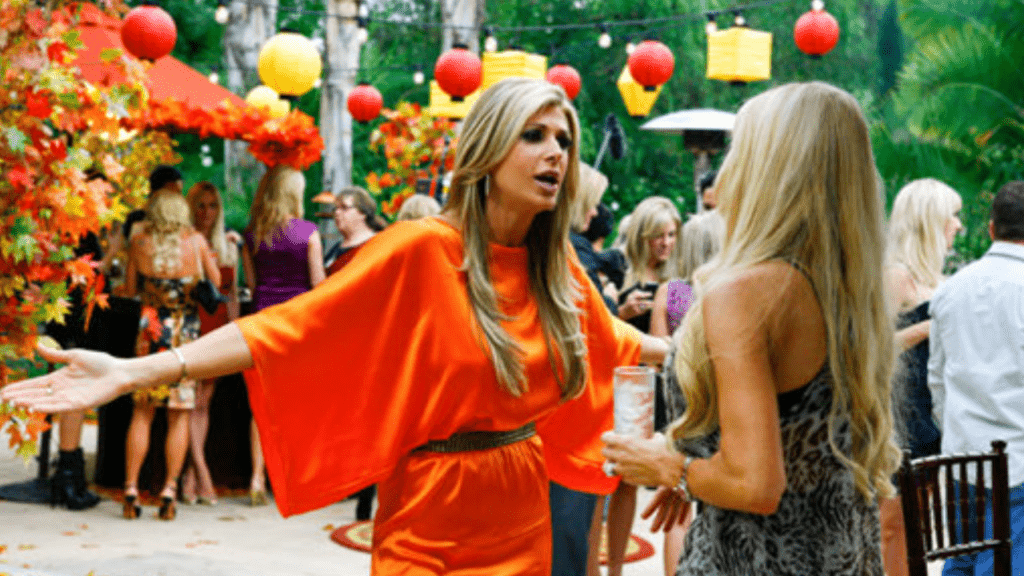 Peggy and Alexis try to talk about their rocky connection. Still, the meeting leads to further tension between the two. To encourage Slade to acquire a "real career," his mother brings up the subject during her visit. Wine tasting and gossiping in Temecula with Tamra, Vicki, and Peggy don't go as planned. Vicki has trouble keeping it together and starts crying when the conversation turns to her marriage.
Episode 11 - Cutting Loose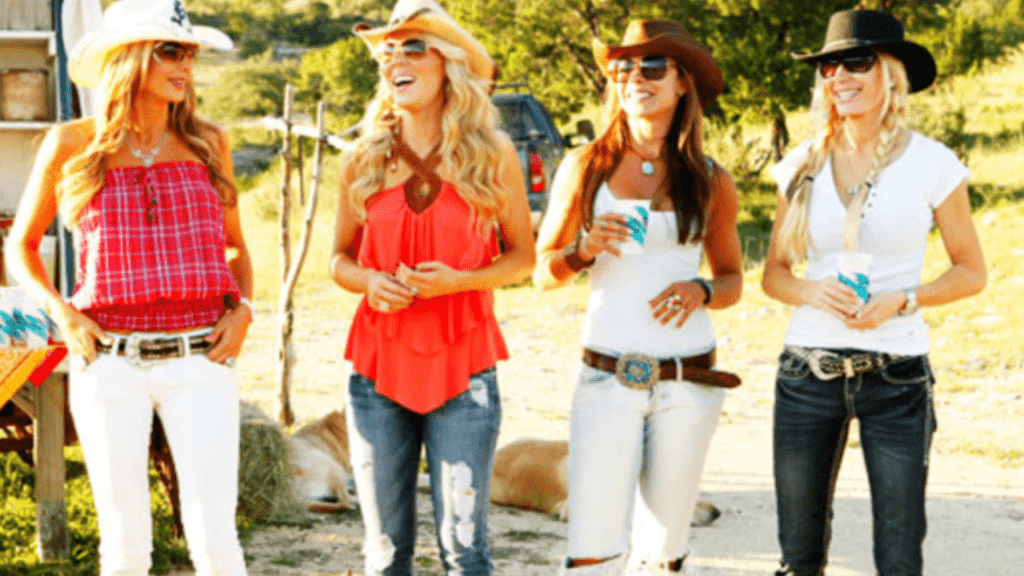 Real housewife Alexis surprises everyone on a girls' trip to San Antonio by being candid about loosening restrictions at home. The court dispute between Tamra and her ex-husband Simon heats up back in the OC, and to make matters worse, former housewife Jeana Keough has gone to press on Simon's side.
Episode 12 - Fashion Victim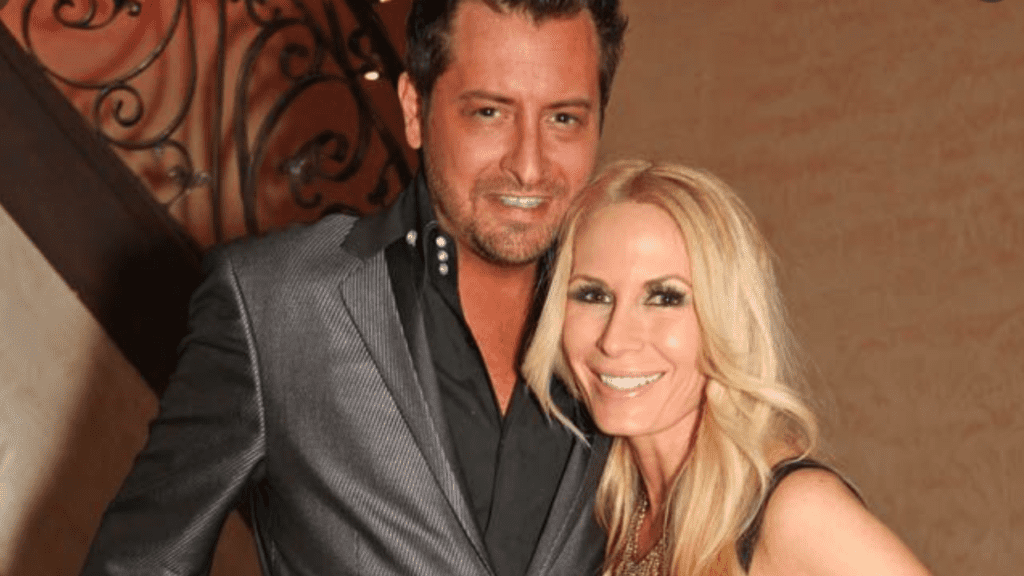 Peggy takes her husband, Micah, on a surprise trip to Las Vegas. Still, instead of bringing her best friend Alexis, she brings along Tamra and Eddie. Gretchen and Slade have a stern talk back in Coto de Caza about the strain his child support obligations and mounting debts are putting on their relationship. Meanwhile, Vicki doesn't appear present for the Alexis Couture Fashion Preview.
Vicki returns home from the hospital and discusses her plans for the future of her marriage in the season finale. Despite being overwhelmed by personal issues, Vicki still plans to host her annual Halloween party. All the women are present, and there's lots of drama between them, notably involving the ex-housewife Jeana.
Episode 14 - Reunion, Pt. 1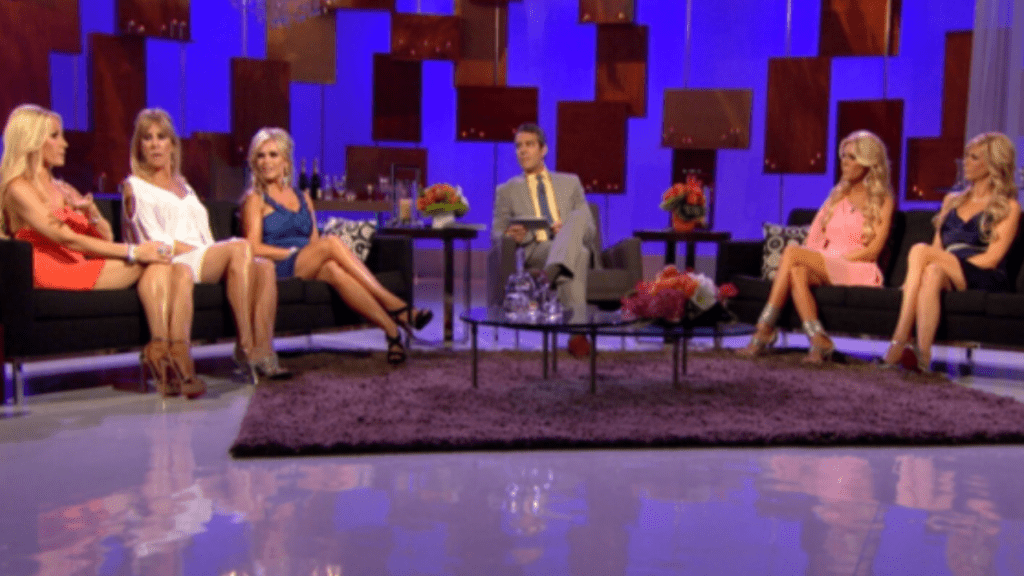 Tamra Barney, Alexis Bellino, Gretchen Rossi, Peggy Tanous, and Vicki Gunvalson, all from Bravo's The OC, join together with host Andy Cohen to clear the air regarding some of the season's most controversial moments.
Episode 15 - Reunion, Pt. 2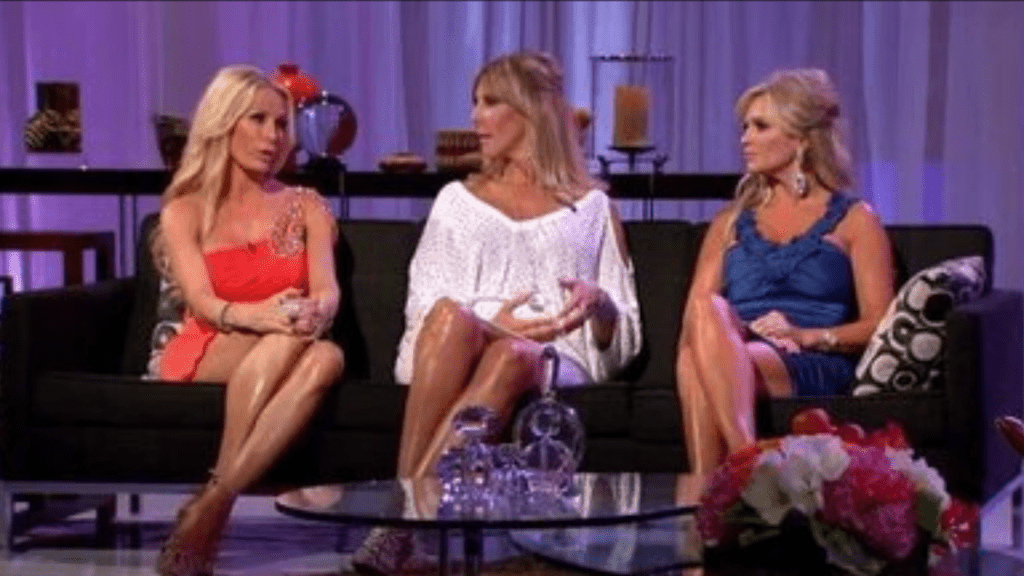 Where part one is left off, part two begins. Tamra Barney, Alexis Bellino, Gretchen Rossi, Peggy Tanous, and Vicki Gunvalson, all from Bravo's The OC, join together with host Andy Cohen to clear the air regarding some of the season's most controversial moments.
Episode 16 - Lost Footage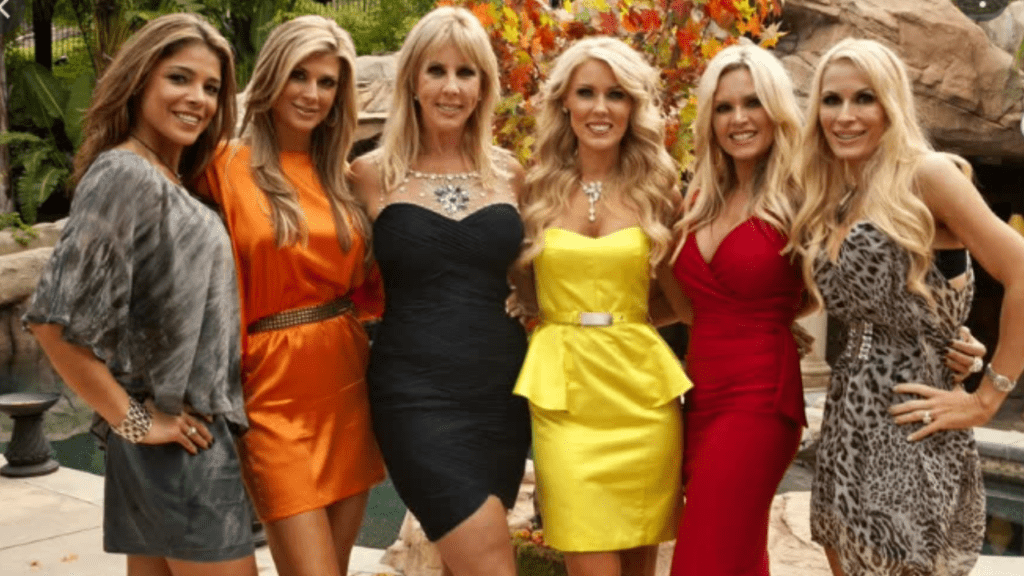 In this special episode of The Real Housewives of Orange County, we witness some brand new, never-before-seen footage. Gretchen shares openly about her struggles with an eating disorder. At the same time, Tamra opens out about her eldest kid's health problems. Fernanda confronts Alexis about her view on gay marriage. In a scene from the finale that has never been seen before. Vicki tells her brother the truth about what caused the Gunvalson divorce.
The Real Housewives of Orange County Quick Facts
an American reality television series
broadcast on Bravo
aired on March 6, 2011 
concluded on June 20, 2011
primarily filmed in Orange County, California
Andy Cohen, Adam Karpel, Alex Baskin, Douglas Ross, Gregory Stewart, Scott Dunlop, and Stephanie Boyriven serve as executive producers
consists of 17 episodes